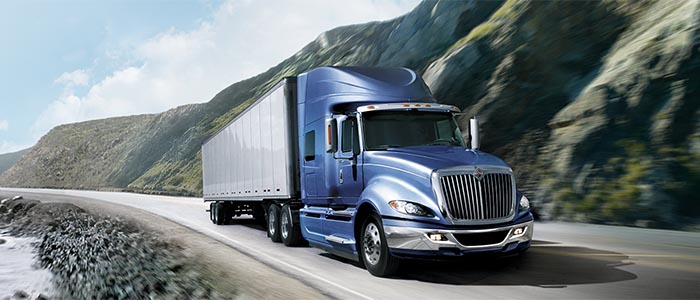 Available now at Ballarat Iveco International Trucks!
PROSTAR
LONG HAUL
When you have miles to go, you don't have money to burn. With the ProStar® ES fuel efficiency package, superior aerodynamics and drivetrain optimization provides class-exceeding fuel-efficient performance to help keep costs down and profitability up.
LOCAL DELIVERY
Not every haul takes you across the open road. Yet when you still need to deliver the goods, the versatility of an International® ProStar® shines through. Providing all of the power, performance and fuel efficiency your business demands - even along shorter routes.
TANKER
The job. The load. Your reputation. When you've got so much riding - on your heavy duty truck frame, you need the confidence that comes with the aerodynamic design, incomparable fuel economy and integrated safety features of an International® ProStar®.
HEAVY HAUL
The ProStar® has what it takes to get even the heaviest cargo to its destination. Besides the big bore power of the Cummins ISX15 engine, it boasts exceptional maneuverability, on-center steering and an effort-reducing hydraulic clutch pedal.
113" BBC 4X2
GVW: 32,000 - 37,000 lbs.
GCW: 80,000 - 110,000 lbs.
Wheelbase: 142 - 226"
113" BBC 6X2
GVW: 32,000 - 60,000 lbs.
GCW: 80,000 - 140,000 lbs.
Wheelbase: 152 - 240"
112" BBC 4X2
GVW: 32,000 - 37,000 lbs.
GCW: 80,000 - 110,000 lbs.
Wheelbase: 146 - 226"
112" BBC 6X2
GVW: 32,000 - 60,000 lbs.
GCW: 80,000 - 140,000 lbs.
Wheelbase: 160 - 252"
DAY CAB
You've already got a window office; now explore the freedom of room to maneuver. The 82"-wide cab boasts nearly 40" of headroom and 30" of legroom for driver and passenger comfort.
SLEEPER
Home on the road. Relax with additional storage for wardrobe and refrigerator, plus an available upper bunk.
MANUAL
Eaton Manual 9-, 10-, 13-, 15- or 18-speed
Eaton UltraShift+ PLUS Automated Manual 10-, 13-, 16- or 18-speed
Eaton Advantage 10-speed
Tremec Manual 10-speed
AUTOMATIC
DELUXE TRIM
Travel in style and comfort with soft vinyl seating, double visors, mulded plastic trim, rubber flooring, available cab sound insulation, double cup hulders and more.
PREMUM TRIM
A tough day deserves a cab that puts driver comfort first, with standard cab sound insulation, dual moveable visors, speakers and reading lights in the overhead consule and more.
EAGLE TRIM
Experience the highest level of driver satisfaction with woodgrain accents, removable carpet inserts, additional storage, four moveable visors, bright handle door trim and more.
STANDARD WARRANTY
Base Vehicle Coverage: 12 months, 100,000 miles, whichever comes sooner
Drivetrain Coverage, Under 52,000 lbs. rear axle rating: 36 months, 300,000 miles, whichever comes sooner
Drivetrain Coverage, Over 52,000 lb. rear axle rating: 12 months, unlimited mileage
Cab Structure/Corrosion: 60 months, unlimited mileage
EXTENDED OPTIONS
Extended warranties can be purchased - la carte or in bundles
Available for HVAC, electrical systems, axles and more
CUMMINS X15
Torque: 1,450 - 2,050 lb.-ft.
Horsepower: 400 - 605 hp
NAVISTAR N13
Torque: 1,450 - 1,700 lb.-ft.
Horsepower: 390 - 475 hp